PRESS
Latest News/Releases
Recent releases of Optimum Petroleum Development
Applicaation for Transfer of Shares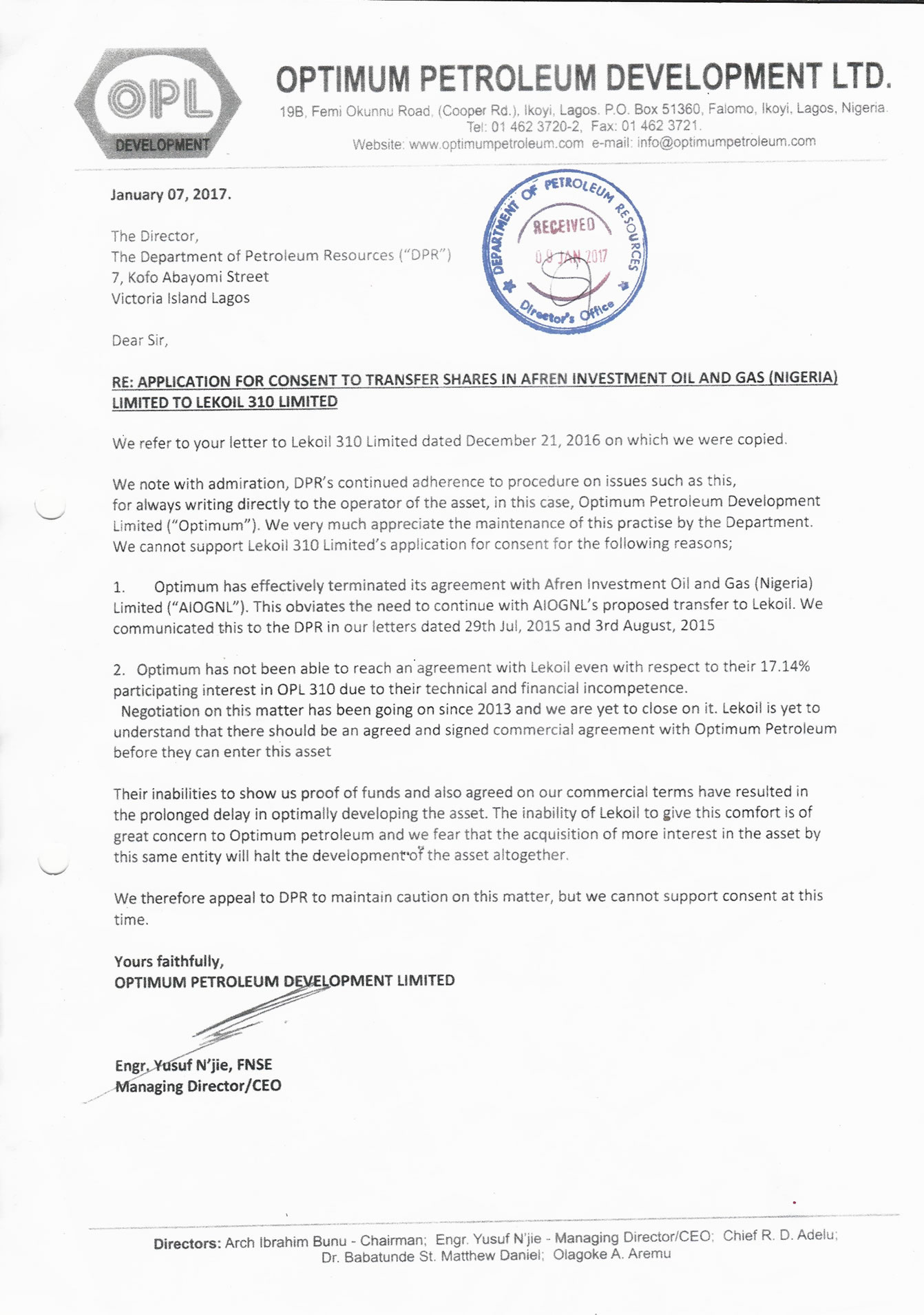 OPL 310 Operations and Partner Update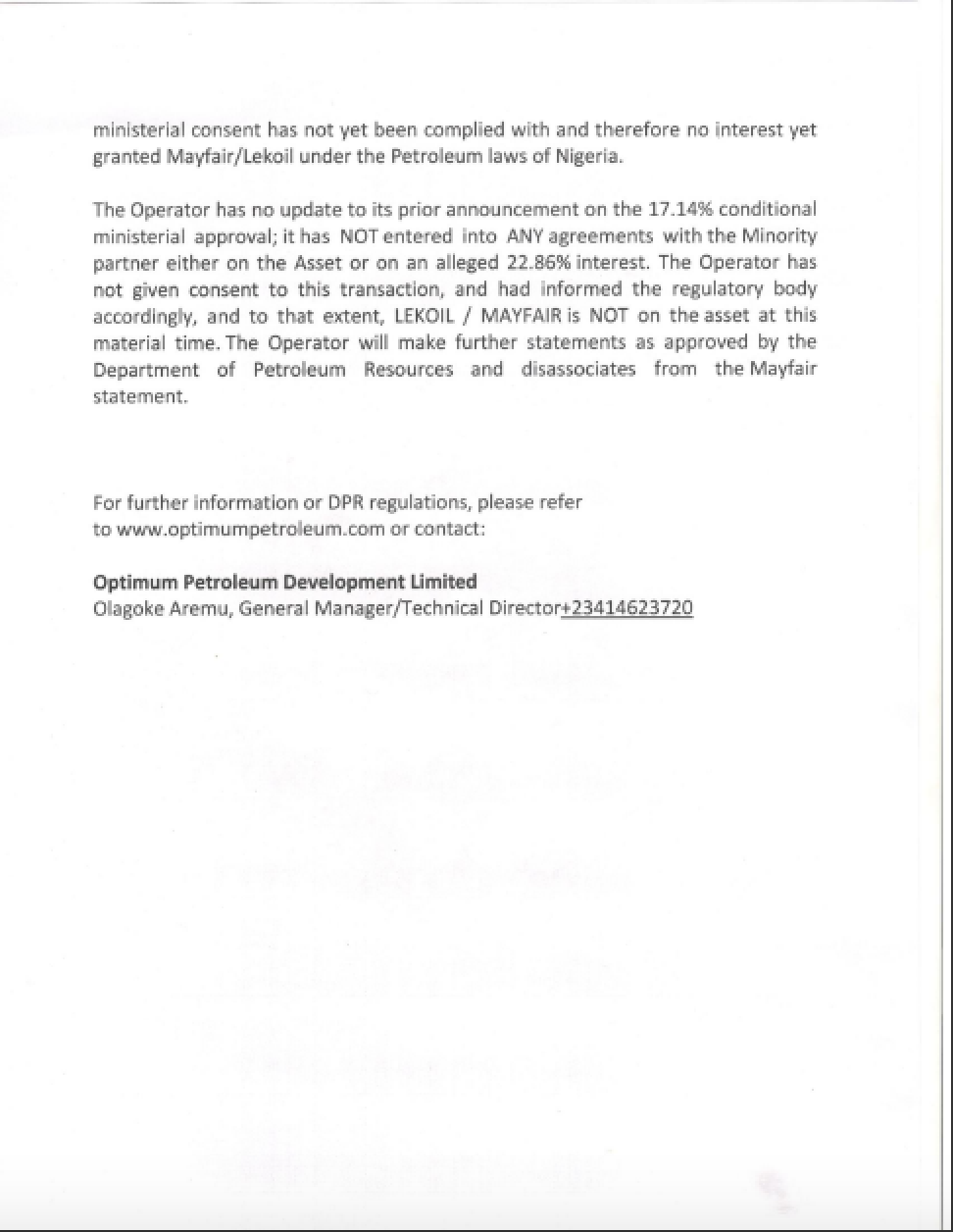 Application for Consent to Transfer Shares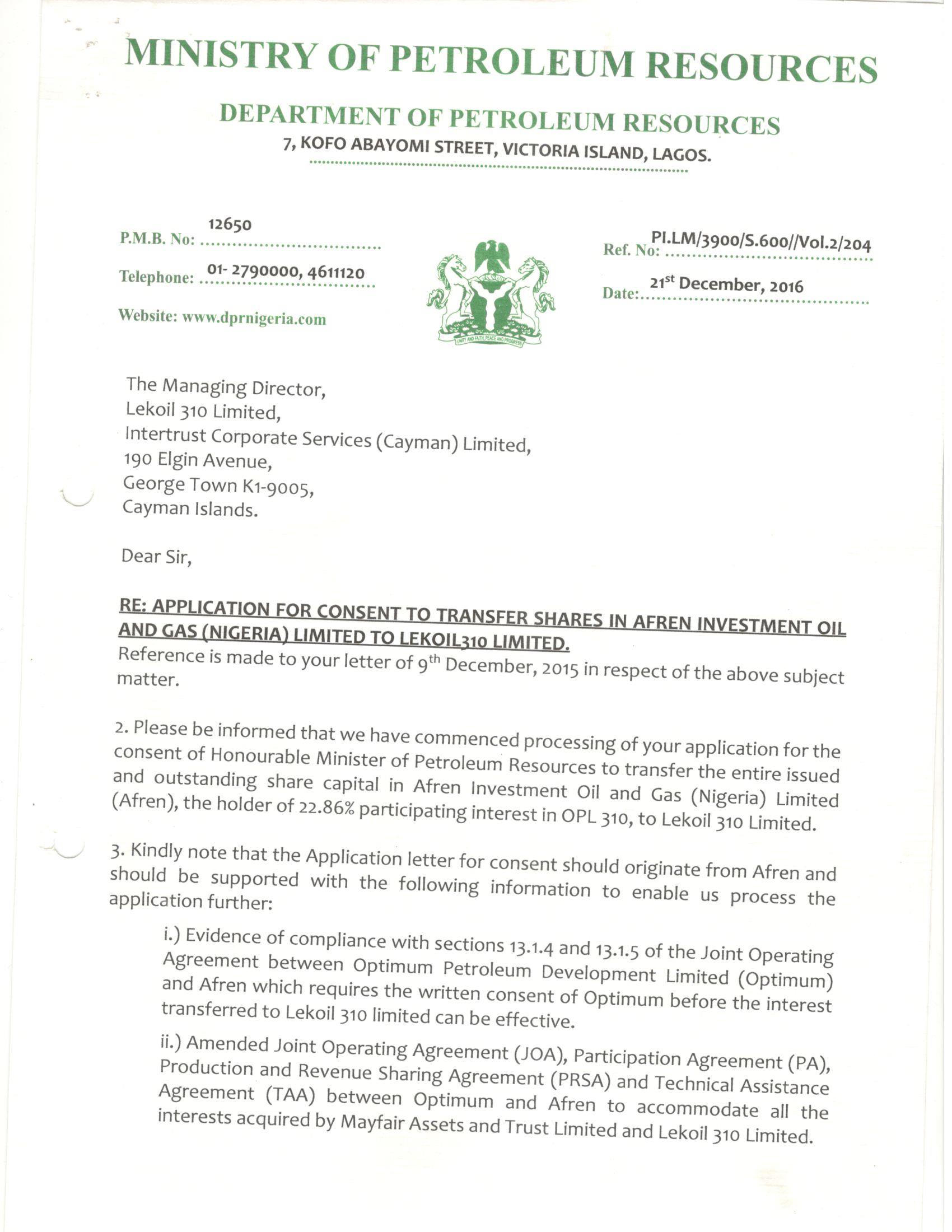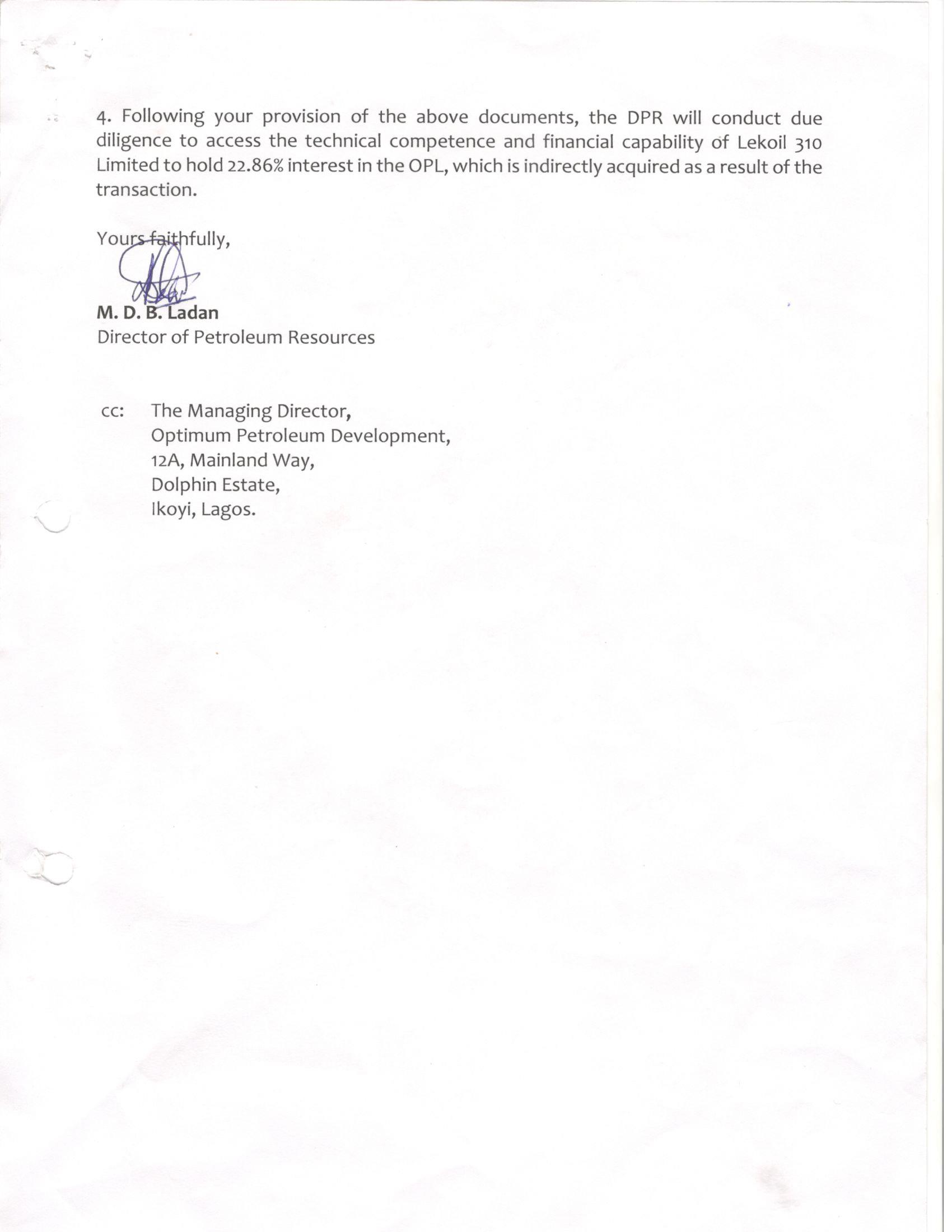 Consent of the Honourable Minister of Petroleum Resources to the assignment of 17.14% interest in OPL 310 to Mayfair Assets and Trusts Limited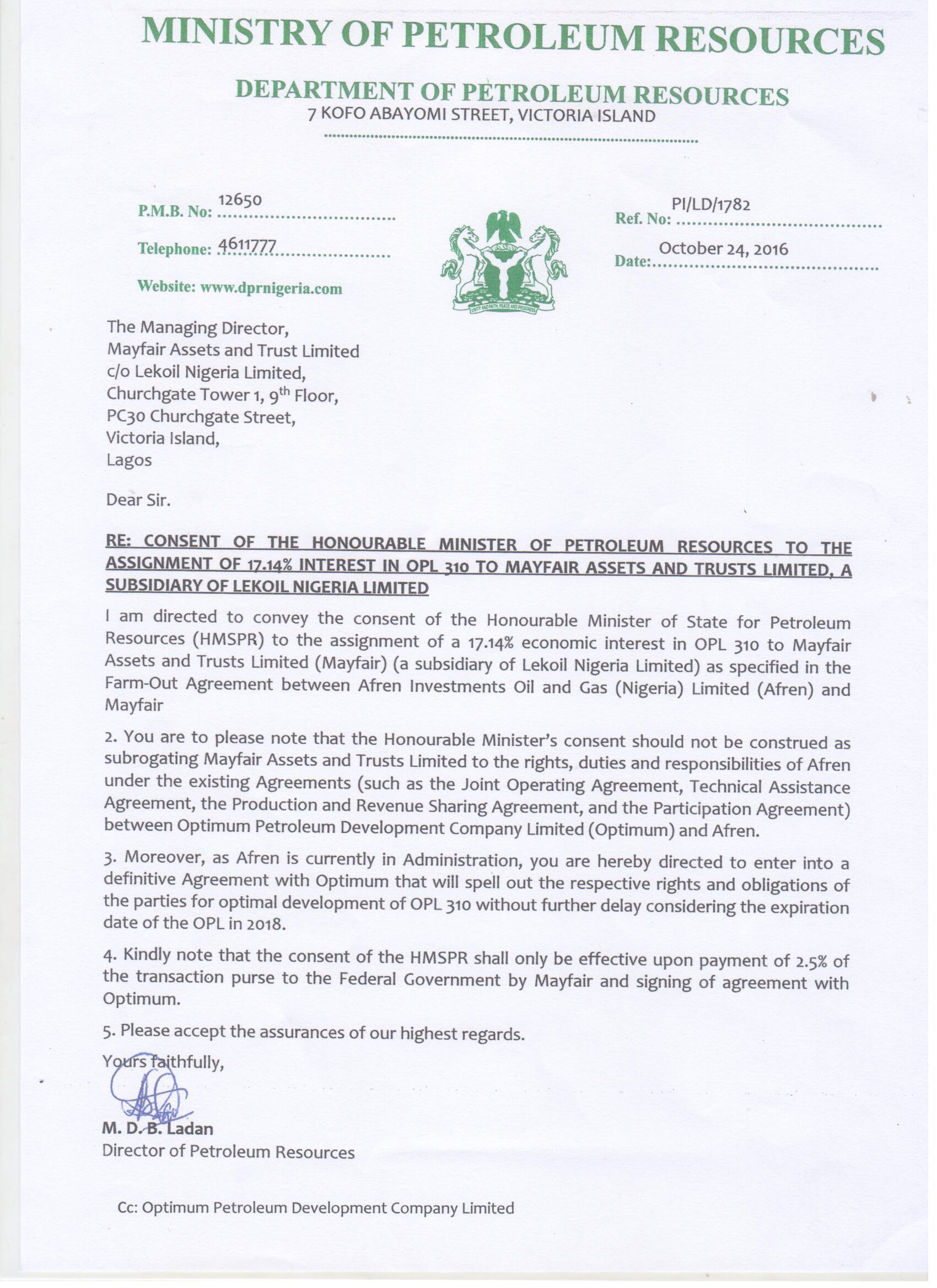 OPL 310 Operations and Partner Update
Optimum Petroleum, operator of Oil Prospecting License (OPL) 310 in the Federal Republic of Nigeria, announces an operations update for activities related to the development of the block which includes the world class Ogo discovery. The Operator also announces that conditional Ministerial Consent has been granted to its new minority partner, Mayfair Assets and Trust Limited ("Mayfair"), a subsidiary of Lekoil Limited("Lekoil"), for a 17.14 per cent economic interest in OPL 310.

The Operator wishes to appreciate the position of the Ministry of Petroleum Resources as demonstrated by the Depatment of Petroleum Resources (DPR)

In resolution of these issues and with the support of The Ministry of Petroleum Resources, the Operator has agreed to the entry of Mayfair and a conditional consent has been granted to Mayfair by the Federal Republic of Nigeria's Honorable Minister of State for Petroleum Resources (HMSPR) on 24 October 2016 for a17.14 per cent economic interest in OPL 310.

Pursuant to the assignment, consent shall be effective upon Mayfair's payment of 2.5 per cent of the transaction purse to the Federal government and the signing of an agreement with the Operator. In line with the Ministerial guidance on this issue, Optimum Petroleum remains resolute in finalizing an agreement for the 17.14 per cent assignment and to define the rights and obligations of both parties for the optimal development of OPL 310 without further delay. The Operator, however, can make no assurances for the successful completion noting that negotiations have been ongoing since 2013 and that plans for a well to be spudded in early 2016 were not completed. To date Optimum Petroleum has not executed an agreement nor received payments as detailed in a 24 October 2015 non-binding term sheet.

An OPL 310 Operations update follows;

• The OPL 310 license is an upper cretaceous play in the West African Transform Margin. Most of the prospects are in water depths of 100 to 800 meters, where in 2013 included the successful drilling of an exploration well (Ogo-1) and its planned sidetrack (Ogo-1 ST). The block extends from the shallow water continental shelf near the city of Lagos extending to the deep-water.
• The Ogo-1 well encountered a gross hydrocarbon section of 524ft, with 216 feet of net stacked pay whilethe Ogo-1 ST well encountered the same reservoirs as Ogo-1 in addition to the syn-rift section which encountered a 280 feet vertical section gross hydrocarbon interval. Owing to well data collected from the two wells, the partners estimated P50 gross recoverable resources to be at 774 mmboe across the Ogo prospect four-way dip-closed and syn-rift structure.
• Geophysical works including a 1,505 square kilometer 3D seismic acquisition program, representing nearly 80 per cent of the block, and interpretation has been completed. Commissioning of a full-field Competent Persons Report has begun.
• Drilling of two appraisal wells and two exploration wells is expected to begin in early 2017. Appraisal wells will focus on prospects around the Ogo discovery that have been de-risked following the completion of seismic interpretation of multiple horizons.
• Engineering and design for an early production system are on-going with hydrocarbon evacuation and facilities options being finalized.
• Technical and financial activities continue to be led by the Optimum Petroleum executive team following the termination of its technical services agreement and Joint Operating Agreement with Afren Investments Oil & Gas (Nigeria) Limited ("Afren") in July 2015.
• A strategic farm-in process is expected to commence in 2017 as an option for full field development financing in parallel with appraisal and exploration drilling.

Optimum Petroleum Managing Director/CEO Engr. Yusuf K.J. N'Jie concluded;

"Optimum Petroleum is pleased to announce progress on the resolution of the issues in relation to OPL 310 development and is pledged to continue its efforts to bring yet another Benin Basin field into production following the successful development of the Aje field on OML 113. The forthcoming appraisal and development work on OPL 310 is expected tocommence in 2017 and should contribute to the production oil and gas reserves supporting the industrial development and energy needs of Lagos State and the petroleum industry of the Federal Republic of Nigeria."
Background information on Oil Prospecting License (OPL) 310
Termination of Agreements with Afren as Technical/Financial Partner
Effective 29 July 2015, Optimum Petroleum terminated all agreements with Afren including its role as technical adviser and the Joint Operating Agreement due to material breaches of Afren's undertakings and obligations on OPL 310 operations. Regulatory filings regarding the termination were executed with Nigeria's Department of Petroleum Resources ("DPR") on 3 August 2015.
Optimum the Indigenous Operator entered agreements with Afren PLC a UK oil company in 2008 and its Nigerian Subsidiary Afren Investments Oil and Gas Ltd. Following, Afren's protracted funding challenges since 2013 and inability to drill and finally in conjunction with the entering of Afren PLC into UK insolvency and Administration, in July 2015, the Operator terminated all Material Contracts with Afren and its subsidiaries for the breach of all its financial and technical obligations to progress the Asset and duly informed the Department of Petroleum Resources.
$2.5bn Claim against Afren
Optimum Petroleum filed a claim in the Federal Republic of Nigeria for $2.5billion against Afren for recovery of financial losses due to the material breach of its obligations in the development of OPL 310.
Mayfair Non-Binding Term Sheet

On 29 March 2016, Optimum Petroleum and Mayfair entered into a non-binding confidential term sheet related to certain operational, technical and financial obligations of a new partner on OPL 310. To date no definitive agreement has been executed.